We are happy to announce that we are updating the user interface for iOS mobile application. This release is available now!
The new iOS M-Files mobile application has a completely refreshed UI and it is now closer to web and new desktop clients than ever before.
Improvements in accessibility and discoverability with new icons, navigation, and action buttons.
Fewer clicks to access views, create and edit objects and sort views and search results.
What's New?
New UI and Navigation:
Completely renewed fresh UI – Both bright and dark themes.
Renewed view navigation and tool bar for easier access
Related files and relations to other objects visible and accessible from listing area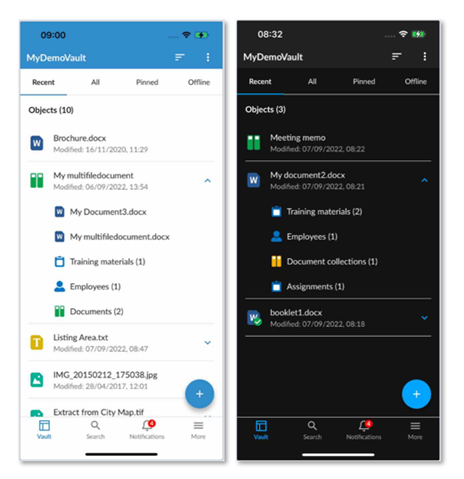 Metadata Card Improvements:
Properties in metadata are editable right away, no need to go to separate editing mode.
No more guessing where to open preview – there is distinct button for it.
Workflow selection in the end of metadata card – same way as in other M-Files clients.
Share and comment buttons always visible when viewing metadata card.
Two clicks less when adding image with camera as file to object.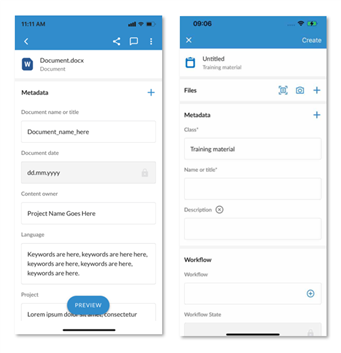 Search Results:
Now filter results with Facets when using gRPC.
Filter option clearly visible.
Indication in filter button to see if filters are currently applied.
One click less to sort the results – Sort button not behind menu anymore.
New Layout in iPad:
Now it's possible to see listing area, metadata card, and preview at the same time.
Application adopting to your needs: user can close metadata or preview tab and see only one or the other.
M-Files Web alike layout.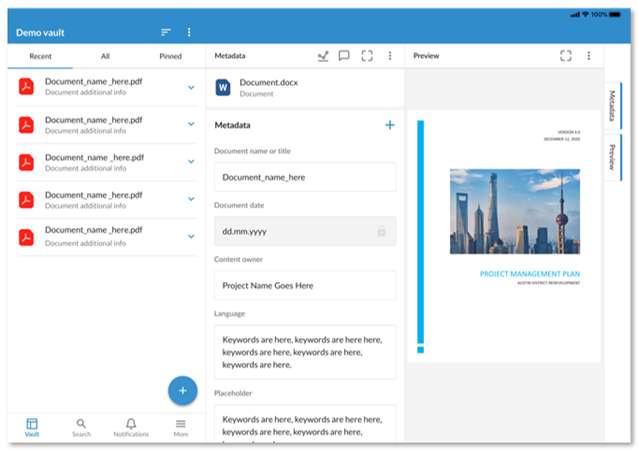 Notifications Views:
Assigned to you and checked out items combined to Notifications view to easily see what is ongoing.
Notification view button has indication when there are items in this view.
Relations to other objects visible so easy to see objects related to assignment.
More View:
All settings now collected under More view.
Supported M-Files Server:
M-Files Server 2018 or later is needed.
Connections to vault in older servers cannot be established and information is shown to user: "This M-Files Server version is not compatible with your M-Files mobile app. Please ask your M-Files system admin to update M-Files Server."