Hi there
Is it possible to replace the value (changeable) in the client that shows up if you select more then one object with a calculated value of all selected objects?
Example:
We have a number of hours in a property:

If I select more objects, it would be cool, if that value is sum up together of all selcted objects and show that instead.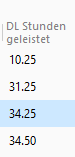 Is there a way to achive that?
Alternative I only see to make a new property with a calculated proeprty from the compliance kit, right?

Thanks in advance!