Hello,
I've been struggling with this problem for a while now and i would appreciate the help alot!
Customer wants that email (In finnish lähettäjän sähköpostiosoite) and phonenumber (lähettäjän puhelinnumero) information are automatically filled after choosing person from the list (atm chosed user is called Virpa Vähälä).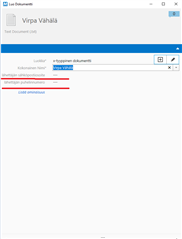 Phonenumber and email- informations are filled when person is created (Another object type and customer class called person).

Im kinda new with M-files (started working in this company less than 2 weeks ago).
I Hope this question makes sense and i will offer more information if needed.
Thanks!