Your company is about to take on M-Files, which means that you and your colleagues are about to embark on a journey of becoming M-Files users. But doing so involves change, moving away from the old and embracing the new. And change is difficult. So what can you do?

We know that change is difficult. For many users, whenever they encounter new software, they don't see helpful features, they see change and they might not like that change (even if that change would benefit them greatly). So, for many organizations, no matter the software application, user adoption and resistance to change can be the biggest hurdle to successfully implementing a new system.

However, difficult doesn't mean impossible. And at M-Files, we have a track record and a decade of experience helping our users embrace change. So, in this post, we're going to let you in on something that we think is absolutely critical for navigating change and ensuring user adoption.
The Five M-Files User Roles
There are five key User Roles we can define and think about here today and in later posts, we can look more deeply at identifying and onboarding to fill the positions and of course, getting each group up to speed to develop skills necessary for their role.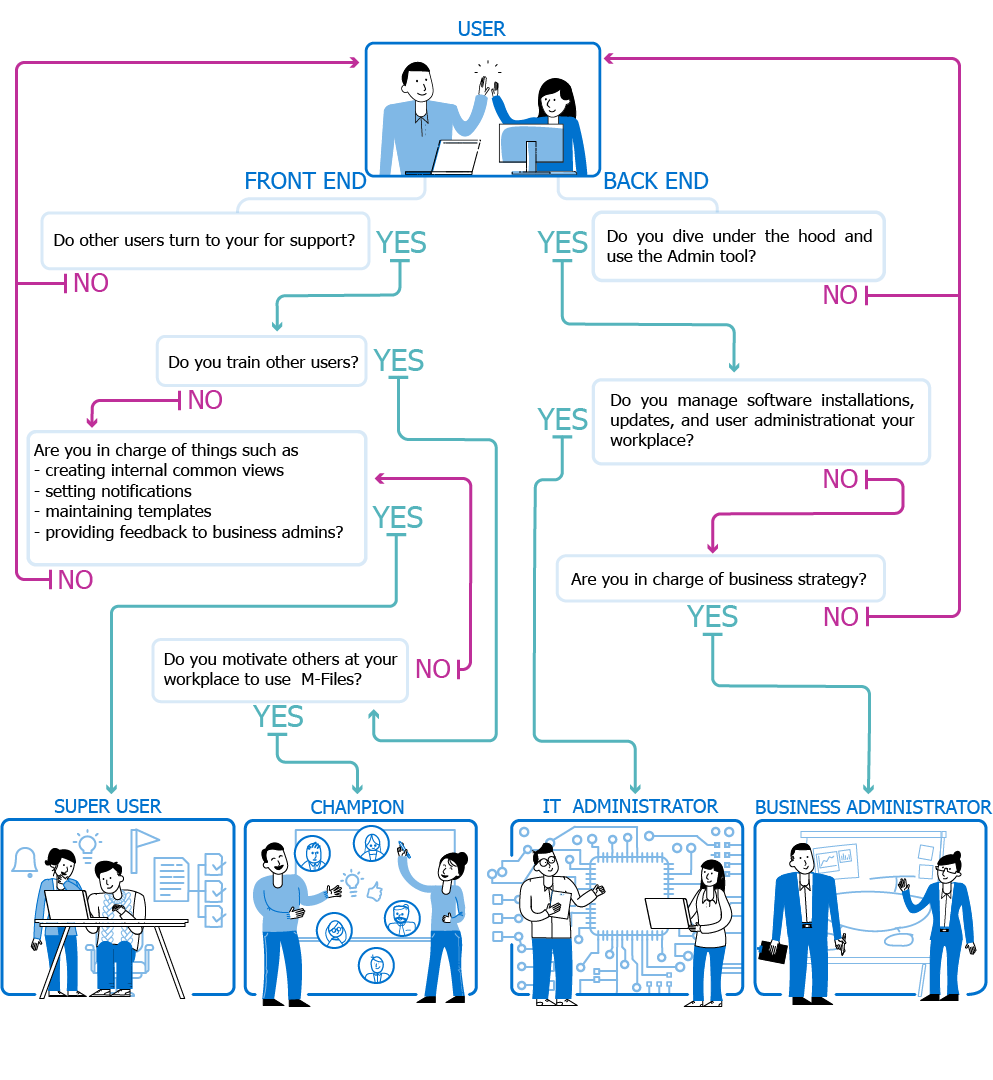 The User role is essentially all who use M-Files in their daily routines, no matter where they are in the organization. To be a proficient, the fundamental skills required are basic tasks such as saving, modifying, finding and sharing information. Users should also understand and be comfortable with Metadata and its usage in the organizational processes.
Super Users are heavy users of M-Files and have some administration responsibilities within the M-Files Desktop. Super Users are not necessarily internal M-Files trainers, yet still support other M-Files Users and communicate User needs to M-Files Administrators. It is recommended to have Super Users spread throughout all business areas using M-Files. To be successful, a Super User should be able to perform tasks like creating common Views and notifications, as well as maintaining good information management processes. For this, they should be comfortable with the organization metadata structure and processes.
An M-Files Champion is a broad role description, with a common purpose of empowering and engaging the network of users. While a Champion's own usage can very, they have a strong M-Files mindset to building the M-Files buzz and represent the daily support of M-Files behaviors. A team of M-Files Champions includes people who can fill advocate roles 1) with strong business understanding, 2) to train and coach Users, and 3) Users can turn to when having questions. Each Champion need not fill all Champion needs, but each has a common desire and are motivated to help others on their journey.
M-Files Business Administrator
Business Administrators hold a key role in the organization, as they can dive under the hood and manage the structure of the solution itself, using the Admin Tool. As they are a go-betweens across the organization's M-Files network, good communication skills are necessary, as well as solid understanding of organizational processes and business needs, in order to make good M-Files design decisions that best serve the needs of the User and the organization. Business Admins are also often discussing with M-Files representatives, making understanding of the system logic and usage valuable.
M-Files IT Administrator
IT Admins have administrative rights to maintain the customer solution and have a strong understanding of their company's IT infrastructure and are the most likely persons to manage software updates and user administration and installations. IT Administrators have strong business understanding on strategy, and operations and processes. In order to be effective, an IT Administrator should hold good M-Files logic, understanding on how decisions on the backend affect User experience, and be able to discuss with internal and external stakeholders about the M-Files solution.
We said five, but there is a sixth role to consider also, the Project Team Member. These are participants in designing the M-Files solution for the organization and it is recommended to have system designers representing all user groups above to provide the fullest vision and to enable them for their ongoing roles. A project team member has to have a good understanding of internal processes in their area and be willing to collaborate to design the best system for the needs of the organization and end users.
Playing the roles
As you can see, segmenting users by role is a key factor to not only successfully implement M-Files, but also to strengthen the entire communication flow within the organization. At M-Files, we have found that well-defined and selected role positions smooth out and speed up the user journey, because every user feels like they are specifically being addressed.

Author: Taraz Kanti Paul. Senior Training Specialist who is fearless with his focus on customer experience. He`s a wizard at reading the room and will adjust the agenda on the go to meet training participants' needs and reach business goals.